Sports Activities in the School
All the sports activities are designed to develop different physical skills. Healthy body only can hold healthy mind and healthy mind only can hold healthy society. We believe in organizing various extra-curricular and sports activities to ensure our students get a healthy school experience. The school also offers facilities & guidance for unique activities like "Yogasana", "Mallakhamb", Rifle Shooting and Horse Riding.
A huge state-of-the-art Sports Complex has been built in the vicinity of the school. It boasts of among other things, a Swimming pool, an Indoor Shooting range and a synthetic athletics track, which are of Olympics standards.
School conducts various skillful physical activities such as Rope Mallakhamb, fixed wooden Mallakhamb, Hanging Mallakhamb, Yogasan for which two experts in this field Mr. Ranveer Sawant & Mr. Santosh Kambli are appointed. The incredible feats in Mallakhamb are achieved, thanks to the expert training given by Mr. Ranveer Sawant & Mr. Santosh Kambli. Our students actively take part at all district level & state level Mallakhamb competitions. This year one student from std. 10th has achieved the remarkable feat of participating in the state level Mallakhamb competition.
Central Government specially invited our five students to show their performance of Mallakhamb at the Red Fort, Delhi in front of President of India on the eve of celebration of 150th year for 'Uprising of 1857' on 11th May 2007.
Niradhar Mallakhamb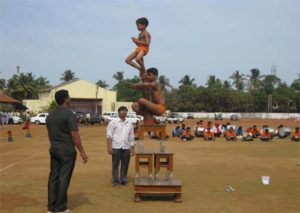 We are very proud to present our students in this "Niradhar Mallakhamb" position. Very few can perform this act which demands total concentration and perfect balancing. It also creates a bond of trust and co-operation among the players.
Our students performed skillfully on "Niradhar Mallakhamb" placed on detachable glass bottles in a live TV Show 'Marathi Paul Padte Pudhe' on Zee Marathi in 2011.
Please be sure it is not a trick scene. Our student Mast. Vijaykumar Chhalla goes against the law of gravitation and achieves this remarkable feat in Mallakhamb only after rigorous hard work under the expert's guidance.
Annual Sports